!REVIEW GOES HERE!>
VINCENZO'S: ARE ALL DINERS EQUAL?

I've enjoyed many a meal at Vincenzo's since this posh Italian spot opened downtown in 1986, but I have never been able to enjoy an anonymous meal there. On my first visit, a server recognized me and outed me to the man himself, Vincenzo Gabriele. Now whenever I dine at Vincenzo's, I know I'm going to have a four-star experience.

But how about an anonymous civilian? Would Vincenzo's roll out the same level of suave, sophisticated service and top-tier Italian fare to an unknown visitor who's not a "regular" as it does for a recognized dining critic? Just to make the test more interesting, how about a pair of young, unaccompanied women?

To find out, I asked a foodie pal, Paige Moore-Heavin, to take a friend and dine at Vincenzo's as my anonymous representative. The results were ... interesting, and well short of a four-star experience. Read her full review on LouisvilleHotBytes.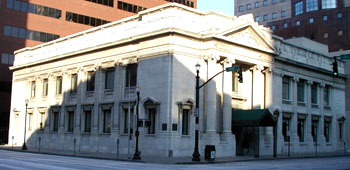 96

Vincenzo's
150 S. Fifth St.
(502) 580-1350

Website:http://www.vincenzosdining.biz

When Vincenzo Gabriele, that proud son of Palermo in Sicily, broke from the late and not particularly lamented Casa Grisanti a dozen years ago to open his own posh downtown eatery, he must have chafed under the contractual restriction that constrained him from competing with his former bosses in the Italian restaurant arena.

So Vincenzo's initially billed itself as a "Continental" restaurant; and if many of its dishes of the European continent featured pasta and other delicacies with vowels at the end of their names, why, nobody inquired too closely about that.

As the years have rolled by, Vincenzo's has gradually become more clearly rooted in its native Italian soil, and it has effortlessly held on to its status as the city's finest restaurant, a place where you can go with absolute assurance that you'll have a first-rate meal and outstanding service, in a setting that's upscale but not stuffy, a luxurious experience that comes at a luxurious price.

A recent revision of the menu and a bit of tinkering with the decor has finally eliminated any last doubts about the restaurant's "continental" status, moving Vincenzo's finally and firmly into the Italian camp. The high-ceilinged, square-pillared dining room in an old bank building attached to the rear of Louisville's Humana Building now boasts a large, colorful map of Italy and bright photos of Sicilian villages where more discreet and clublike portraits used to hang. But the same discreet colors of charcoal and copper remain, along with the large tables draped in fine damask and the comfortable wood and leather side chairs.

The new menu is not entirely changed - many of the popular standards remain - but Vincenzo's brother and chef Agostino Gabriele has added a dozen new Italian-accented dishes that range from a seafood risotto appetizer to a crab cake salad and on to new and appetizing entrees featuring duck, pheasant and Vincenzo's signature veal. There's even a vegetarian choice, a bounty of fresh grilled or steamed veggies.

Eight hot and cold appetizers range in price from $8.95 (for such delicacies as prosciiutto and melon) to $9.95 for Oysters ("Ostriche") Rockefeller, risotto with wild mushrooms, and more. A half-dozen salade are $6.95 (for a simple Insalatina Verde, green salad with creamy caper-Dijon dressing) to $9.95 (for the crab cake salad).

A half-dozen pasta dishes may be ordered as main courses, or if you're doing it up Italian style, as your first course, a hearty palate-teaser before launching into the entree. They come at entree prices, though, from $19.95 (for Spaghetti con Vongole Capesante, spaghetti with clams and scallops in a tomato sauce) to $26.95 (for Spaghetti con Aragosta, with lobster and asparagus).

More than 30 entrees are subdivided into seafood dishes, meat and poultry courses and "Eurospa Menu Heart Healthy" dishes, ranging from $19.95 for the all-veggie Primizie di Verdure ($19.95) to the Costolette d'Agnello, roast rack of lamb ($59 for two). The top single entree is Costate di Vitello alla Panna ($28.95), a veal chop in a brandy cream sauce with peas and onions. Many entrees (not to mention the $7.95 Caesar Salad and $9.50 dessert souffle) are prepared at tableside. A pre-theater menu is available before 6:30 p.m., with a choice of appetizer or salad, entree or dessert from a limited menu for $25.95.

The wine list, a bound leather book, is one of the largest and most comprehensive in town, with a substantial variety of high-end and older bottles. I'd be a bit wary of the French selection, which includes some pricey Bordeaux left over from the restaurant's "continental" days of older but not particularly inspiring vintages like 1979 and 1981. It's hard to go wrong with either the well-chosen Italian or California sections, though; we found the list's "sweet spot" between price and value among the Dolcettos from Northwestern Italy, and ultimately settled on a Seghesio 1997 Dolcetto d'Alba ($24), a full, ripe and dry red with good black-cherry flavors and a pleasant bitterness in the finish.

I should disclose at this point that I can't review Vincenzo's anonymously, having been "discovered" by the affable Mr. Gabriele during my days as dining critic for the then locally owned Courier-Journal. He invariably greets me like a long-lost friend and offers me exceptional service. But then, he invariably greets everyone like a long-lost friend and offers them exceptional service. That's Vincenzo's way.

In any case, after the usual greetings and small talk, I asked Vincenzo to put us together a dinner that would showcase several of the new menu items, and he happily complied, offering us two appetizers, a salad course, two entrees and a trio of desserts, divided in the kitchen onto separate plates so my wife and I could both enjoy them all without having to reach forks across the table. They'll do this for anyone, of course, and if you and your partner are both "foodies," it's an excellent way to enjoy your dinner here.

The appetizer round featured samples of both Gnocchi con Piselli ($8.95), a mound of feather-light, bite-size Italian potato dumplings tossed in a fresh, intense red-tomato sauce studded with green peas and tidbits of prosciutto, and Risotto Pescatore ($9.95), creamy short rice mixed with shrimp, scallops and bites of salmon. The Insalada al Granchio crab cake salad ($9.95) followed, a trio of silver-dollar-size cakes for us each, crisp on the outside, creamy within, artfully "plated" with paper-thin carrot rounds and a dab of field lettuce greens dressed with a silken, sweet-tart balsamic vinaigrette.

The entrees came divided on separate plates, served sequentially as separate courses. First up was the new Vitello con Spinaci e Funghetti ($22.95), a pair of paper-thin scaloppine for us each, sauteed tender as butter and topped with garlicky spinach and morel mushrooms and a piquant but delicate light sauce touched with Dijon mustard. Finishing off the food parade was Fagiano all'Uva ($26.95), a tour de force of boneless pheasant breast and wing, pan-sauteed until deliciously crunchy on the exterior, served on a grilled portobella mushroom with a cream and cognac sauce and a garnish of dried cherries and sliced seedless table grapes.

Dessert? We had no room for dessert, but it's hard to say no when Vincenzo is hovering, urging you to "Eat! Eat!!" A trio sampler from Agostino's kitchen ($8.50 each) featured a white chocolate mousse on an Oreo base, topped with more chocolate and a dab of Creme Anglaise; a rich raspberry Napoleon and an even richer vanilla Napoleon, garnished with a strawberry compote and a few perfect fresh raspberries.

Espresso and a cappuccino ($4.50 each) helped wind down after a leisurely, luxurious meal, an unabashedly Italian dining experience that came to a serious $146.02 plus a $30 tip for flawless service from a well-trained tableside team. $$$$ <!REVIEW ENDS HERE!>
---