!REVIEW GOES HERE!>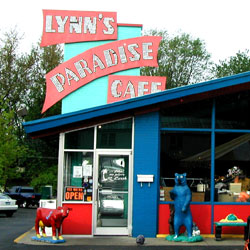 *** Lynn's Paradise Cafe
984 Barret Ave.
(502) 583-3447
Web: http://www.lynnsparadisecafe.com/

One of the most popular places in town for Sunday brunch (not to mention brunch every other day of the week and lunch and dinner too), Lynn's Paradise Cafe lures happy, hungry crowds with its hearty fare and funky decor. It's no coincidence that Lynn's sponsors the State Fair's tongue-in-cheek "Ugliest Lamp" contest, but there's nothing ugly about the delicious and filling fare.
A stranger driving by out front might think Lynn's is just another diner, with its colorful signs and retro A-frame style, an impression not diminished by a menu full of hearty fare that seems to hark back to our parents' times.
But the decor and the bill of fare aren't really '50s style but represent owner Lynn Winter's latter-day take on times past. It's a tongue-in-cheek interpretation that takes an '00s wink at '50s style ... an approach not lost on the restaurant's loyal and largely Baby Boom clientele.
Everything is bright colors and fun. The walls are bright primary colors, green, yellow ... and aquamarine, of course, the Official Color of the 1950s. Formica and chrome tables carry out the diner theme, many of them boasting red-and-white-checked cafe colors. The booths are upholstered in bright reds and blues, if not Naugahyde, then a good imitation. A huge fake tree in the middle is like no tree on earth, dangling white plastic poppies, daisies and something vaguely like dogwood blossoms along with a few stray strands of tinsel. Throw in a funky "ugly lamp" on every table, and Lynn's lives right up to its slogan, "No place on Earth like it."
A quick look at the dinner menu shows how Lynn's bridges the gap between the Fifties and the Naughties: You'll find Mom's Meatloaf ($11.95, adding a modern touch with marinara sauce), roast turkey ($12.95) and that venerable Louisville tradition, the Hot Brown ($12.95), but you'll also find such up-to-date dishes as seafood pasta ($13.95), veggie stir-fry ($12.95) and a grilled portabello sandwich on sourdough bread ($8.95).
I generally think of Lynn's as the quintessential brunch stop, though, and we presented ourselves early on a Sunday morning, ready to eat. Lynn's comprehensive breakfast-lunch menu features both traditional (and some not-so-traditional) morning fare from $6.25 (for two eggs with country sausage patties) to $11.95 (for the "country ham eggstravaganza" with a country ham steak and three eggs). All breakfasts come with your choice of biscuit, English muffin or toast plus home fries, hash browns, cheese grits, honey-vanilla yogurt or fruit.
Non-egg breakfast items range from $4.25 (for oatmeal) to $7.95 (for homemade granola), and include such goodies as French toast ($5.50), biscuits and gravy ($4.95, or $4.75 for a vegetarian version) and pancakes ($4.50 for a short stack of two cakes or $6.25 for three).
The lunch menu features soups, salads, black-bean chili ($3.50 for a cup, $4.95 for a bowl), sandwiches (from $6.95 for the Paradise burger or $6.75 for a vegetarian burger to $8.95 for a grilled portabello sandwich), and a short list of midday entrees from $8.75 (for Lynn's version of Hoppin' John, black beans and salsa over brown rice) to $12.95 (for a Paradise Hot Brown).
Frequently changing brunch specials are always worth a look. The bourbon ball French toast ($8.95, billed as French toast topped with warm bourbon custard, chocolate syrup, whipped cream and toasted pecans) looked entirely too much like a dessert to suit me for breakfast, but my wife's head was turned by a BLT frittata ($9.95).
One thing about Lynn's: You never need to worry about going away hungry. Portions are huge, starting with bottomless cups of coffee ($1.75) in heavy earthenware mugs. The aforementioned frittata ($9.95), a twist on the Italian original, was a baked deep-dish egg cake with a golden-brown crust, with a ration of crispy bacon bits and long-cooked spinach at the bottom, topped with a pool of hot-and-sour horseradish-laced sour cream laced with dill. The cheese grits were fine, a good-size bowl of tender grits with plenty of mild yellow cheese melted in. Rye toast came pre-buttered, as diner toast invariably does.
My choice, the Nova Scotia omelette ($8.95) was a straightforward omelet, more thin than fluffy, rolled around a filling of lox-flavored cream cheese, capers, chopped red onions, pale diced tomatoes and a small amount of cooked spinach. There wasn't as much salmon flavor as I had hoped for, and something about the combination of cream cheese and vinegary capers created a sour flavor that didn't quite ring my chimes. Even so, I made short work of it and a generous portion of finely shredded hash-brown potatoes, grilled just right to a nice mix of crunchy edges and creamy potato. Lynn's biscuits are idiosyncratic but memorable, square and crumbly cakes, full of shortening and flavor. I generally take one or both home to serve as breakfast on another day.
A very filling brunch - enough to serve as both breakfast and midday meal for the day - came to $23.75, plus a $4.25 tip. $$
<!REVIEW ENDS HERE!>
---